Dedicated Customer Service
Partnering with ScottCare ensures your staff has access to comprehensive, reliable, expert support.
Our highly skilled Implementation/Training and Technical Service teams are dedicated to providing you the most value from your investment with ScottCare.
ScottCare extends the value of your investment through dedicated customer service. Whether requesting assistance via email, phone or InVision*, our philosophy of service is rooted in the following principles and standards used to serve our valued customers.
We pledge to:
Treat customers with dignity, respect, compassion and courtesy
Respond to customers in a timely, efficient and responsible manner
Provide customers with accurate and complete information
Work as a unified team to quickly resolve customer problems and return them to their priority of patient care
Ensure customers are satisfied with their service experience
Actively seek feedback from customers in order to continually assess and improve our service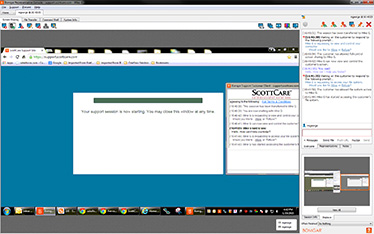 ScottCare's convenient inVision Support Portal enables our support technicians to log into your system with a broadband Internet connection in order to view your screen and operate your system remotely, including the upload of software updates.
Continual Assessment
ScottCare's commitment to continual improvement is evident in our attention to customer satisfaction. We frequently and routinely assess the quality of training and service we provide our customers, measuring both data and experience to provide our Implementation/Training and Service teams full understanding of the efforts required to meet our customers' needs.
Each newly implemented customer is asked to provide structured feedback on their training and implementation experience. We seek these and other details from our customers:
Assessment of the implementation process
Perceived expertise of our trainers
Satisfaction with the training received
Confidence in their ability to use their new system
We currently rate a 4.6 or better out of 5 on all aspects, where 5 is "Completely Satisfied."
In addition, every customer service call is concluded with an optional one-question automated survey assessing the caller's satisfaction. We currently rate 4.9 out of 5 for customer satisfaction, where 5 is "Completely Satisfied."
While our current ratings are a source of pride, we realize that each new day is the next opportunity to improve.
---
Return Material Authorization (RMA)
Repair Instructions: All customers must speak to a tech support representative first before initiating an RMA. We will need the complete serial numbers for the unit/units. Once a technician speaks to you, they will troubleshoot and process accordingly and, if necessary, an RMA number will be provided to you. Each unit will need to have an RMA number assigned individually if a repair and return is indicated. To contact tech support, please call 800.243.9412 and follow the prompts or email service@scottcare.com. You may also choose to contact service through Bomgar via the InVision portal.
Flat Rate Repair RZER900/800af and ER920W = $400.00
Flat Rate Repair Chroma = $185.00 to $385.00 (varies on repair type)
Flat Rate Repair TeleSenseE or TeleSenseRCM = $195.00 to $395.00 (varies on repair type)
Flat Rate Repair ABP320 = $350.00
Flat Rate Recalibration for ABP320 = $275.00 (any additonal repairs will be at the $350.00 flat rate)
**An estimated repair charge of $175.00 will be charged for any unit that is returned without being repaired. If the unit needs repair, the $175.00 will be credited toward the repair cost.**