The Borg CR10 (Category/Ratio) Scale helps diagnose breathlessness and dyspnea, chest pain, angina and musculo-skeletal pain.
The CR10 scale ranges from 6-20, following the heart rate of a healthy adult by multiplying by 10 (i.e., a perceived exertion of 12 roughly coincides with a heart rate of 120 bpm).
After you download your poster (English and Spanish versions will be accessible), we invite you to learn more about TeleRehab™ VersaCare, our multi-parameter telemetry solution with integrated program management and outcomes, mobile functionality and seamless EHR integration. For even more details, register for a free live demo of VersaCare.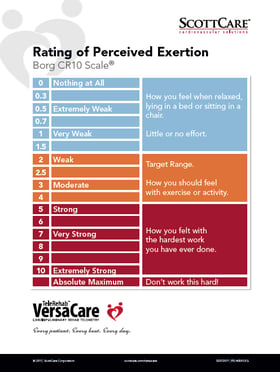 Hanging this popular poster in clear view of your rehab patients will help guide them during their exercise regimen.

(If you're already a VersaCare customer, contact us and we'll send your clinic a high-quality print of this poster FREE!)