VersaCare for Cardiac Rehab

Industry-leading cardiac rehab telemetry technology that provides your clinic with a wealth of features and benefits.
No other system combines:
For extended product details, we invite you to download our VersaCare brochure or register for a live webinar demonstration.
---
Monitoring

VersaCare provides diagnostic quality ECG traces with powerful functionality that can be tailored to your individual needs and budget. Some of our monitoring features include:

Up to 48 cardiac and pulmonary channels of monitored and unmonitored patients per workstation
Up to 16 telemetry channels per workstation
The ability to view monitored and unmonitored patients simultaneously
The ability to view telemetry channels on one or more screens
Review and print multisession reports while monitoring
Start, stop, pause or advance all channels simultaneously
One-click modality advance
Diagnostic quality ECG traces with artifact filters
Photo ID patient recognition
Network Configuration
Whether your Rehab Department requires the ultimate simplicity, a few add-ons with hospital connection, or a multi-site integrated EHR system, only ScottCare provides your team with the configuration options designed to meet all your rehab and IT requirements.

Stand-alone configuration
Expanded configuration
Enterprise Integration Solution (EIS)™ was designed specifically with IT requirements in mind, offering the ideal connectivity configuration for multiple sites accessing a health system's single integrated EHR system.
Want to learn more? Download our Networking Configuration brochure to see how the right configuration can save you time and money for the ideal VersaCare system.

Mobility
Break the chains of the monitoring station! Enjoy the freedom and mobility to monitor your patients from anywhere with VersaCare GO. Enjoy the same functionality as the productivity screen on the VersaCare workstation, allowing input of multiple standard and user-defined fields (BP, RPE, Workload, SpO2, ECG Waveform, Alarms, Session Comments and more). VersaCare GO can also be customized with a variety of other data fields to meet your needs.
In addition to VersaCare GO, VersaCare unchains you from the central workstation with optional laptop and SmartCart offerings.
Transmitters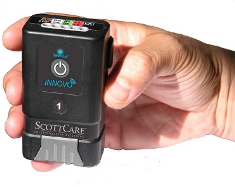 The INNOVO is compact, digital and rechargeable.
Rechargeable lithium-ion battery saves time and money while reducing waste
Intelligent power-save mode conserves battery power and reduces operating costs
Highly durable, lightweight (5 oz.) and designed to withstand wear and tear
Sturdy belt clip offers convenience for you and your patients
Want to learn more? Download the INNOVO brochure now.
EHRPipe™
Simplified integration of VersaCare with your EHR.

Bi-directional communication with all EHRs via a single HL7 interface
Enables quick and easy download of patient information into VersaCare for patient data accuracy
Direct upload of patient reports and billing notifications
Learn more about the technology behind EHRPipe.

Customization
VersaCare adapts to your workflow with a variety of helpful tools and features:
Virtually unlimited custom data items, input screens and drop-down menus
Customizable patient outcomes criteria
Define which telemetry channels and patient info appear on screens
Identify information to be accessible for editing
Create buttons for user-defined data collection
Highlight high-risk patients with reverse QRS/background colors
One-touch alarm suppression
Solid state encrypted hard drives and flash drives
View your data the way you prefer with:
38 standard reports, including pulmonary-specific, session trending, SpO2 and heart rate
Customization of specific reports
On-screen report display and editing
Personalized look and content
Advanced outcomes queries for research projects
Outcomes
VersaCare is the outcomes leader, delivering integrated and automatic outcomes data that easily gauges patient progress for you. All required patient and detailed session information transfers automatically from the monitoring program to Outcomes, without time-consuming data re-entry or import/export. Single-Patient and Group Outcomes are included, as well as a variety of Quality of Life surveys.
Individual Treatment Plans
ScottCare makes it possible to build comprehensive cardiac and pulmonary ITPs from within VersaCare. Pulmonary and cardiac options are available or develop your own, all within VersaCare. Choose one of the pre-built templates or build your own to easily track and manage goals and results. We'll help you customize your templates for free.
AACVPR Registry
ScottCare began its continous sponsorship of AACVPR's Outpatient Cardiac and Pulmonary Rehabilitation registries at their inception. Our VersaCare team has partnered closely with AACVPR to create the technology that allows easy exchange of your clinic's outcomes data to the registries. With VersaCare, registry participants can now compare their outcomes and processes to the registries' evidence-based goals and national benchmarks. Use that information to:
Implement improvement measures
Enhance documentation and communication with hospital administrators, physicians, and others
Aid in improving third-party payer coverage and reimbursement rates
ScottCare encourages customer participation in the outpatient registries and will be here to support you in the process.

Workstations
Each VersaCare workstation has multiple display options and can monitor up to 16 patients simultaneously. Users can access and edit all past and present session reports for both monitored and unmonitored patients—VersaCare retains full disclosures for every session.
VersaCare can even be configured for an unlimited number of nodes or workstations without hindering performance.
Each workstation can monitor or perform management or reporting activities, so you can easily network multiple workstations while sharing the same patient database. You can also configure to network workstations installed at multiple locations across a wide-area network. Configure multiple or larger monitors for more detailed viewing. In addition to 24" widescreen monitors, VersaCare now even offers the option of large touchscreens. Ask your sales rep for details.

HIPAA
Protect your data and personal information while meeting 21 CFR Part 11 system requirements.
Manage information workflow with multilevel access control user-authentication
Lockdown automatically after set period of inactivity and other custom defined parameters
Log activity for audit trail
Protect data from interpretation with proprietary database
Encrypted hard drives and flash drives option available
Want to learn more? Download our HIPAA handout now.
SEE VERSACARE IN PERSON! ScottCare exhibits at numerous state association conferences throughout the year. Check our listings to see if we'll be in your area.
---
Get Your VersaCare Questions Answered