Physician Practice Solutions
Improve Care of Cardiac Patients and Reduce Labor Costs
Make ScottCare your clinical partner for diagnostic testing and monitoring services.
Cardiovascular Diagnostic Solutions
CardioView Dx™, the industry's most comprehensive single-platform, fully integrated product suite, includes the following testing modalities:
Pacemaker/ICD monitoring
Mobile cardiac telemetry (MCT) monitoring
Holter monitoring and analysis
Ambulatory blood pressure monitoring
Arrhythmia event monitoring
Single interface EHR integration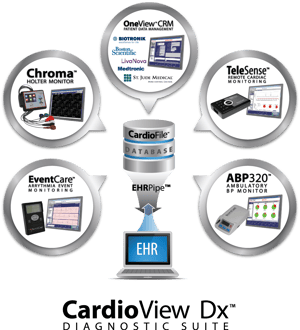 Cardiac Device Monitoring Labor
Introduce, increase or improve your ambulatory ECG and remote cardiac implantable electronic device (CIED) monitoring and access a greater portion of available global reimbursement. ScottCare and Ambucor Health Solutions are the perfect monitoring partner for:
All CIEDs
Holter analysis
Arrhythmia/cardiac event monitoring
Mobile cardiac telemetry (MCT) monitoring
Whether you have the staffing and clinical expertise to provide these services in-house or need the 24/7 monitoring coverage that Ambucor provides, ScottCare will customize a solution that meets all of your cardiac testing needs for improved care and increased capture rates.