Frequently Asked Questions about OneView CRM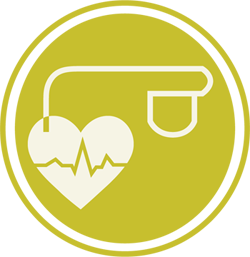 Can your system import programmer data?
Yes. OneView can accept programmer data from:
Abbott (formerly St. Jude Medical)
Biotronik
Boston Scientific
LivaNova
Medtronic
Data communicated directly through USB flash drives.

Can your system receive data from CRM vendor remote websites?
Yes. OneView accepts direct, secure import of patient device data and summary reports from:
Merlin.net
Carelink
Latitude and Latitude NXT
Home Monitoring by Biotronik
How many workstations does your system include?
OneView is server-based and installed on your standard or virtualized server environment. This application can be accessed from any appropriate secure network or Internet connection. Since the application is not loaded on individual workstations, patient and application data is easily protected while minimizing IT resources.

Does OneView import lead serial numbers?
Yes. OneView imports and displays the device and lead serial numbers provided by the CRM vendor.

How does OneView handle device and lead recalls?
Upon notification of a device or lead recall, a single entry into the OneView system will automatically flag each patient that has the impacted lead or device.

Are we able to find out how many patients missed clinic this week with OneView?
Yes. Complete query functionality allows access and reporting as needed on any manual or automatic inputs, values or schedules.

Does OneView send and receive scheduling messages?
Yes. OneView has bi-directional scheduling capacity with all EHRs.

Does OneView receive EGMs?
Yes. All CRM vendor-created reports—including EGMs, summary reports and episode reports—can be imported from programmers and/or remote websites.

Does OneView allow electronic signatures?
Yes. Physicians can e-sign within CardioFile, ScottCare's web report management application.

Can you track and display certain values—battery voltage, for example—across a given period of time?
Yes. Any value that is manually or automatically entered into OneView can be displayed and/or graphed as part of a customized summary report.

How many patients can OneView handle?
As many as you require. Since OneView is a server-based application, there is no limit on the number of patients that can be managed over the life of the system.

Can we import our existing patient database information into OneView?
Yes. Most existing electronic device databases can be converted and imported into OneView to populate a customer's system upon Go Live.

How do you get new devices or leads into the system?
OneView's lead and device libraries are automatically updated each time a remote or programmer check is imported with a new device or lead. This dramatically reduces the amount of manual data entry that is required for device management.

Are you able to send the completed reports directly into our EHR?
Yes. ScottCare's EHRPipe™ application can export all completed PDF reports directly into your EHR. It can also export discrete data values contained within the patient files to appropriately featured EHRs.

How many licenses do I need?
OneView is managed based on a concurrent web user license scheme. That means that you only need licenses for those allied healthcare professionals who will be actively processing patient files at the same time.
---
We are dedicated to your success and are here to answer any additional questions or provide additional details.
We will respond within 1 business day.